"The findings provided by the feedback devices remind us why we come to work every day. The reports are used as key performance indicators for strategic planning and they provide an important message for decision making."
Customer satisfaction as part of city's service development
The city of Tampere has measured the satisfaction of its citizens with Roidu feedback devices since 2014. The real-time and targeted feedback system has made giving feedback a natural part of service usage. Yearly, tens of thousands of received feedback offer a comprehensive view of the quality and fluency of services and enable quick reacting to problems.
Before Roidu devices, feedback was mainly gathered with paper forms, whose manual handling and saving was a great challenge for the city. The online feedback form on the city's website was hard to find, so there was never enough accumulated feedback. "We didn't have enough time to systematically handle, analyse and utilise feedback in our service development before", tells Timo Tuurala, the planning chief of Tampere.
Citizens were included in the planning, execution and evaluation of all the services
The societal change in service culture brought customer-oriented thinking and customer experience measuring a part of the main principles of quality management.
"We wanted to listen to our customers more and they were included in the planning, execution and evaluation of all our services. Customer-oriented approach became a permanent part of modus operandi in Tampere", Tuurala continues.
The continuously growing amount of feedback from all of the city's units is an indication that the citizens have adopted the use of feedback devices as a natural part of their everyday life. From 2019, the overall feedback amount will be over 51.000, 88% of which is gathered at health centers. The city is awarded a good NPS score of 61 by its citizens, which is somewhat lacking of the target, 70. However, developmental work continues and customer satisfaction is monitored daily.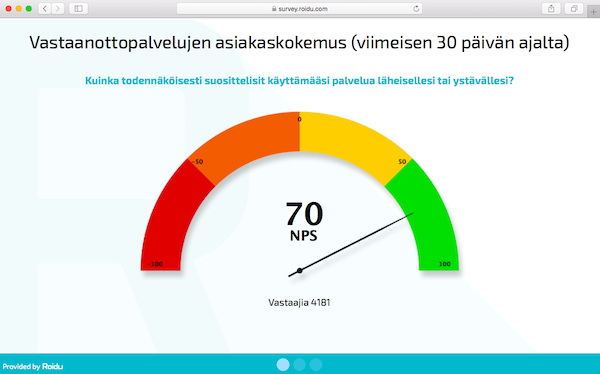 The joint result of Tampere's health and dental clinics, and special health care services 3.12.2019.
Values of Tampere: doing together, responsibility, openness and courage
Researched and trustworthy information about service fluency enables continuous development of services and knowledge-based decision-making. "It would be difficult to imagine developing our processes without targeted and versatile guidelines provided by the feedback", Tuurala emphasises.
According to the values of Tampere, all the reports are published online in real-time. "We are very open about the feedback because we want to create an interactive cycle of improvement", Tuurala commented on the transparency and openness of their processes. The feedback-based improvements and developments made are communicated to the citizens via various channels.
"The findings provided by the feedback devices remind us why we come to work every day. The reports are used as key performance indicators for strategic planning and they provide an important message for decision making", Tuurala summarizes the benefits of the customer experience measuring.
Interested in our solutions?
Leave us your contact information or contact our sales team.