"The thought is deep-rooted in the company culture that every feedback, especially a critical one, is a possibility for improvement."
When the smiley faces aren't enough
Messukeskus is Finland's largest venue and hundreds of events and meetings are held there every year. When the number of visitors is measured in either side of a million, customer experience measuring is in a very important, but challenging role. In Messukeskus, quality control manager Anita Mäkelä is in charge of hearing the customer's voice. She takes care of measuring customer experience and especially bringing the feedback forward.
Messukeskus has been conducting customer satisfaction surveys for tens of years, but customer experience measuring became systematic 3 years ago, when they started using Roidu feedback devices in the summer of 2016. The whole feedback structure was renewed and nowadays feedback is collected in various ways: visitor surveys are conducted during events along with feedback devices, and email and text message surveys are directed at event organizers, exhibitors and those that have contacted customer service. Plus, there is also a feedback channel on their website.
Messukeskus uses Roidu feedback devices specifically to collect spontaneous feedback. Besides measuring general customer satisfaction, their specific purpose is to collect open feedback.
"A mere smiley face isn't enough, we want more precise feedback in support of service development. By measuring customer satisfaction, we're discovering trends and finding out if we're going in the right direction. However, feedback and improvement ideas tell us where the right direction is", Mäkelä describes.
Aggregate report increases understanding on every level of large organization
The feedback received has a genuinely great significance in the everyday life of Messukeskus. It is noted in the quality criteria that all customer feedback is to be answered within a day and the promise is held on to even during the busiest times. "The thought is deep-rooted in the company culture that every feedback, especially a critical one, is a possibility for improvement", Mäkelä tells. Feedback is processed monthly in sales and steering groups. The root causes of critique are examined and appropriately reacted to when needed.
Every Monday last week's feedback is compiled into an aggregate report for the whole organization, which is the most read news of internal communication. Sharing the customer feedback for the whole organization to read is important in Mäkelä's opinion:
"Aggregate report increases understanding on every level of a large organization, but also transparency and mutual understanding of what is important to us."
People at Messukeskus are particularly satisfied with Roidu's comprehensive service. Feedback devices are delivered ready-to-use and their operation is automatically taken care of. When problems occur, they are dealt with quickly and flexibly. "I especially appreciate that the service is made so easy to the customer", Mäkelä summarises.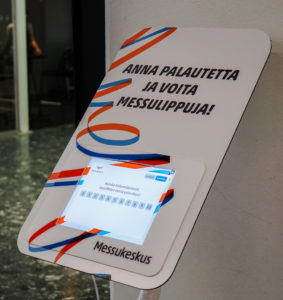 Interested in our solutions?
Leave us your contact information or contact our sales team.